Photos Page 4
Snapshots 1

Copyright 1995, Doug Pearson, CFPA
---
( Left ) Firefighters coming off Glendale Truck 26 after a fire at Hoover High. ( Right ) Riverside County Engine 38 ( in foreground ) and Engine 18 at the scene of a fire in Rubidoux.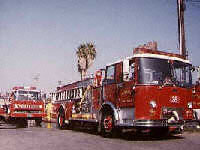 ---
Two pictures of LA County Fire working a 2nd alarm structure fire in Pomona.
Previous Page
Go back to CHIBI photography page.
Next Page