Photos Page 2
LA City Helicopters
Photos Copyright 1995, Doug Pearson, CFPA
---
Los Angeles City Fire Helicopters
The Los Angeles City Fire Department has 6 helicopters in full time service to fight fire and save lives within the City of Los Angeles and it's surrounding communities, these helicopters are piloted by specially trained firefighters. Fire 1 and Fire 2 are Bell Model 412's, twin-turbine, quad rotor helicopters, the water capacity of these helicopters is 325 gallons, the original capacity of the drop tank was 350 gallons, however,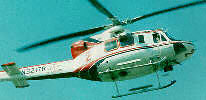 the foam injection pumps takes away 25 gallons of capacity. Fire 1 is seen here leaving a helicopter landing zone at the Leona Valley IC in the summer of 1994. Fire 2 is pictured without a water tank and operating as an air ambulance having just taken off from the football field at Valley College in Los Angeles with a patient critically injured in a traffic accident. The water tanks are removed to save weight when helicopters will be used for air ambulance or air rescue work. All 6 of the LA City helicopters can be used as air ambulances if the need arises, however usually at least one stays outfitted with the drop tank for possible use against brush fires.
Two more of LA city's fire helicopters, Fire 3 seen on the left and Fire 4 on the right, are Bell 205's the water capacity on these helicopters is also 325 gallons. Air 3 is pictured along with a ground support crew at the Leona Valley IC. Air 4 is dropping water on a small spot fire along the Interstate 210 during the summer of 1994. Additionally, Los Angeles City Fire Department operates Fire 5 and Fire 6, Bell 206 Jet Rangers, the water capacity of these helicopters is 100 gallons with the foam pumps on these tanks using 20 gallons of the full capacity. During the brush season, the city transfers another Bell 412 with a 325 gallon capacity tank from the department of general services to the Fire department for brush fires, this unit does not have a dedicated call sign or any fire department markings.

I would like to thank Brian Humphrey, PIO Los Angeles City Fire Department for the information on these helicopters.

---
Previous Page
Go back to CHIBI photography page.
Next Page